Britto mug - All We Need is Love
VAT included
Delivery times vary depending on the workshop - Contact us for more information
This original creation made by Goebel workshop is adapted from a Romero Britto's Pop Art design.
Great paintings and daring designs here become objects of perfect craftsmanship. The transformation of the Pop Art motives onto porcelain is done in close cooperation with the artist to bring out the best of his unique style. A genuine work of art in your home!
Product Details
Data sheet
Material:

Hand decorated porcelain

Size:

h 11 cm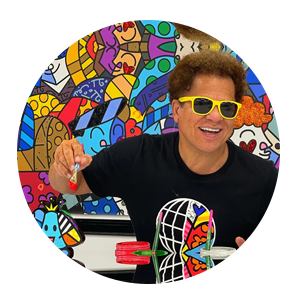 Romero Britto: This Pop Artist uses vibrant colours and bold patterns as a visual language of hope and happiness. He has been credited with the largest public art installation in Hyde Park history and exhibited at the Louvre Museum - an art that appeals to all!
Other products in the same category: